As many of my readers know I have a huge appreciation and respect for people who inspire others – also known as, "Inspirationators".  Brandy Flores is an Inspirationator.  For years Brandy has been a top model, elite fitness athlete, and spokes model for the health and fitness industry.  Today Brandy is an inspiration and role model for busy Moms everywhere.
Here is my interview with the wonderful Brandy Flores.  Please feel free to share your thoughts, comments, and insights.
With Passion & Conviction,
Wendy
Wendy Schauer:  Brandy, you've been a spokes model for the fitness industry for quite some time, how did you originally get started with health and fitness for yourself?
Brandy Flores:  I have been in sports since I can remember.  My Dad had me running in track meets in my diaper.  I started in soccer when I was 5 years old and played every sport you possibly can in grade school.  In high school I participated in soccer and track. When I was about 19 I saw a fitness competition on ESPN and I knew it was the next sport for me.  I always wanted to model, and once I competed that's when It all took off for me as a fitness model.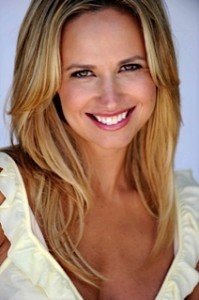 W.S.:  After all of the years that you have put in exercising what keeps you motivated to continue?
B.F.:  I stay motivated because when I workout I feel good about myself and my body – I hate saying this, but I have always had body issues – and I am a happier person.  Being in the Entertainment Industry is always a motivating factor of course.  The biggest motivator of them all is my health.  I love food and since I love to eat I have to work out.  When I am sick is really the only time that I don't work out.  Also, I admit I took lots off time off from the gym when I was pregnant.  As I have gotten older and become a mommy I work out less, but for me that still means working out at least 4-5 days per week.
W.S.:  Brandy, how have your health and fitness goals changed since you were in your 20′s?
B.F.:  In my 20′s working out and eating perfectly right was my number one priority.  Now I'm in my late 30′s (yikes) and I'm learning how to balance life, fitness, and health.  I'm not as hard on myself as I used to be, but also I'm also growing and realizing that some foods you just have to eliminate from your diet for good.  It has changed from my health being the most important thing, and not my amount of body fat.
W.S.:  I know you are a busy Mom with two beautiful girls, what advice can you give other Mom's on how to find the time and ways that they can stay in shape and keep motivated while raising their family.
B.F.:  It definitely is not easy when you're a Mom and you have kids and you're tired all the time.  I do lots of workouts right in my house most days.. I call them "Lazy Lady Workouts", because sometimes I don't even get out of my jammies for them! (laughs)  My advice is to always make time for yourself and just do some type of workout.  If that means getting up early before the kids get up, do that.  Someday's all I get in is 30 minutes of working out.  Do what you can, when you can, where you can!  Find what works for you and DO IT.  Personally, I love stretching, It makes me feel alive and relaxed.
W.S.:  What are the Top 3 things that you believe someone could start doing today to improve their level of health, wellness, and fitness?
B.F.:  Number one is to eat a healthy and nutritious breakfast, number two is be sure to drink lots of water, and number three is get moving and start stretching.
W.S.:  Brandy do you have any tips or recipes that you would like to share for "on the go" snacks for parents and their children?
B.F.:  I like graham crackers.  I like to make my girls Peanut Butter Balls also.  They are simple and even the kids can make these themselves.  I use 1 part honey to 2 parts Peanut Butter and then I add "nonfat dry milk" 1 tablespoon at a time till you can roll them into balls.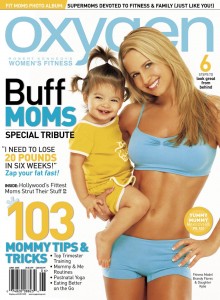 W.S.:  Childhood obesity is rampant in the U.S. and children today aren't as physically active as they were even 10 years ago.  What advice do you have for helping parents combat this problem in their home?
B.F.:  I know as a Mom how easy it is to take my kids to the drive thru, so that is the first change that most parents need to make.  Limit how much fast food we give our kids and make better choices on what we buy at the grocery store. I admit I am guilty of making bad choices for my kids, and I am always trying to make better choices for us and talk to them about making better choices for themselves. We as parents have to lead by example of course.
W.S.:  You're a huge inspiration to many women, who are you inspired by?
B.F.:  I've always been inspired by Oprah.  I have been watching her shows forever.  These days I am inspired by all the women and mothers in my life who stay active and are actually healthier today then they were in their 20′s.
W.S.:  Brandy, is there anything else that you would like to add?
B.F.:  You can always find me at www.BrandyFlores.tv (a work in progress) and of course on FaceBook and Twitter @BrandyLuvsInfo
W.S.:  Brandy, thank you for your time and insghts.
B.F.:  My pleasure.