I remember as a kid people talking about heroes and I didn't understand why someone would have a "hero". I thought my parents were amazing so why would I have to look up to anyone other than them. I realize now how fortunate I was to have them as my parents and that some kids needed someone else to look up to.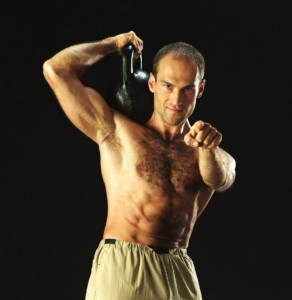 My first hero experience came in early 2000 when I met Pavel Tsatsouline. I was having excruciating back pain that was not resolving. The pain was worsening and I thought I was going to lose my career
due to it. My husband bought Pavel's Beyond Stretching book and found his contact information. He emailed Pavel and Pavel told him that he came to Seattle twice a year to put on seminars. We signed up for the next one and headed to Seattle. As soon as we entered the room my husband introduced himself and Pavel then asked "Where is Wendy?" Pavel had only spoke to my husband once through email four months prior and he still remembered us. That impressed the heck out of me. 
Pavel's seminar was amazing and after he took time with me to show me some exercises to do to help my back. I remember being impressed with his knowledge and his true desire to help me get out of pain. There was something about him that made me want to know him more. Every time he came to Seattle my husband and I drove up to Seattle and spent time with him. At one of those visits, he told me I needed to start working with Kettlebells, that they would strengthen, stabilize and build endurance in my lower back. I did and they changed my life. Using the kettlebell made me strong and pain free. I have been using them for 7 years and am able to work long hours without pain.
Pavel was my first true hero. He has spent years educating himself to be the best at what he does. He has a drive to help people and to help make people stronger and healthier. I look up to this man and strive to be better because of him. That is what a hero should be; someone who inspires you to be better in life. Plus I do think that Pavel has some superhero qualities about him.

I would love to know who inspires you to be a better you.
With Passion and Conviction!
Wendy